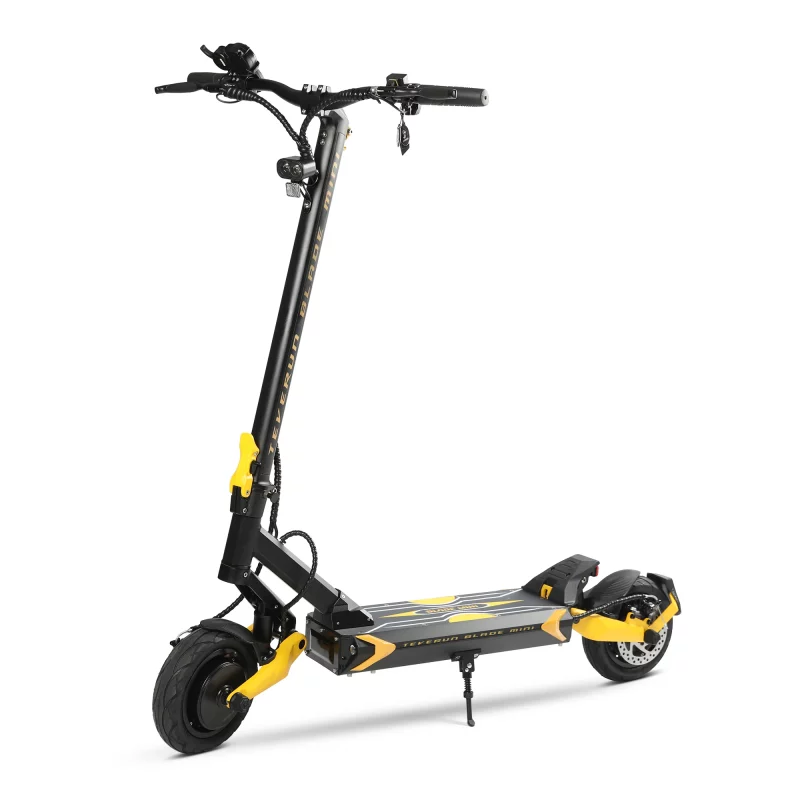 Blade Mini Pro Electric Scooter
$1,299.00
A new champion in the 48 volt scooter world has emerged, feast your eyes on the Blade Mini Pro from Teverun! This 48 volt dual motor scooter features a top speed of 35mph and a real-life range of over 20 miles in a single charge. This mid-level performer is an eyecatcher and a great ride with 9×3 tubed tires, mechanical disk brakes, spring suspension, and all the programmability offered in the MiniMotors ey3 throttle. This model is perfect for riders looking for a bit more performance than the single motor offerings without going up in size to the 60 volt + options. Lock this awesome new folding mechanism into the riding position, unlock your scooter with the NFC electronic lock, and ride off into the sunset on the new Blade Mini Pro.
In stock
Description
Product Information
SPECS
Tire Size (inch): 9″ Tube Tire
Display: Minimotors EY3 Original
Speed: 34mph
Battery: 48 volt 18.2Ah
Maximum Range: 37 miles
Brakes: Double Disk
Electronic Lock: NFC
Suspension: Spring Suspension
Maximum Load: 264lbs
The Material: Forged Aluminum
Net Weight: 66lbs
Gross Weight: 77lbs
Display:
Intelligent Control System
NFC Lock and TFT Display Option
More Features:
Information
Shipping
We currently offer free shipping worldwide on all orders over $100.
Sizing
Fits true to size. Do you need size advice?
Return & exchange
If you are not satisfied with your purchase you can return it to us within 14 days for an exchange or refund. More info.
Assistance
Contact us on (+44) 555 88 65, or email us at support@reytheme.com.
Fascination with details.
Collaboratively generate goal-oriented results with distinctive portals. Interactively procrastinate enterprise strategic theme areas through B2B systems. Energistically morph covalent ideas after seamless supply chains. Uniquely synergize goal-oriented markets before 24/365 platforms.